Last night I finished up the purple tea cosy, and I'm giving it that test run this morning. Thus far, it's keeping my Jasmine Pearl tea nice and warm, which is wonderful, because the teapot tends to cool off very quickly, as it is mostly glass. It also catches any drips when pouring, which is also helpful, as I'm kind of clumsy and none to graceful.
The pattern itself is pretty simple, and I've got it written up, but I want to give it a once-over before I offer it to the general public. It's knit out of Lamb's Pride yarn in some shade of purple (I've since lost the ball band) on 4.5 mm needles. The fuzz from the yarn seems to keep in heat that is lost by the lace pattern. Also, the cosy hasn't been blocked, which means the lace isn't as prominent, but the holes also aren't as large either.
My tea pot is roughly spherical and ~7 or 8 inches in diamter, and holds about 4 cups of tea. The pattern could be easily upsized for larger teapots, and changed slightly for different shaped teapots. I've got a couple more pictures for you.
Here, you can see the way that the cosy closes - buttons inside the handles, and ties above the handle. You can't see it, but below the handle, the two sides of the cosy are sewn together.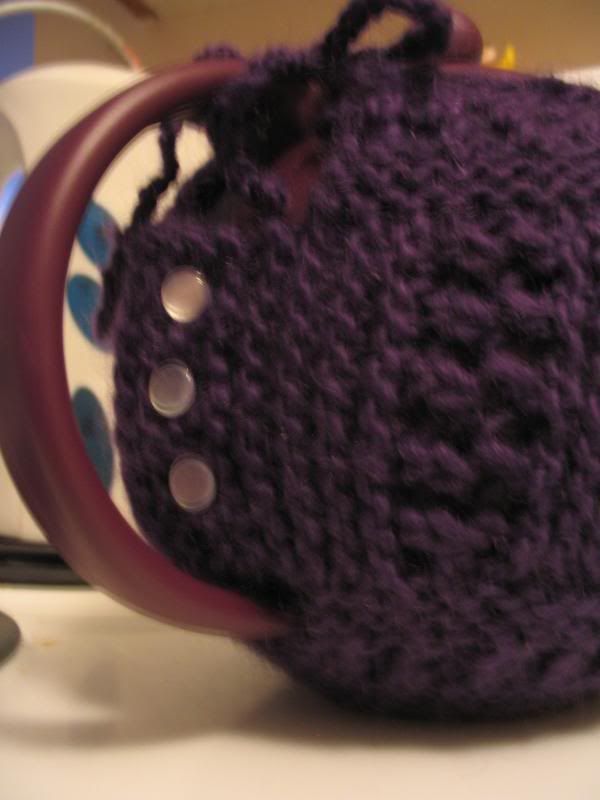 And a close up of the closure under the handle.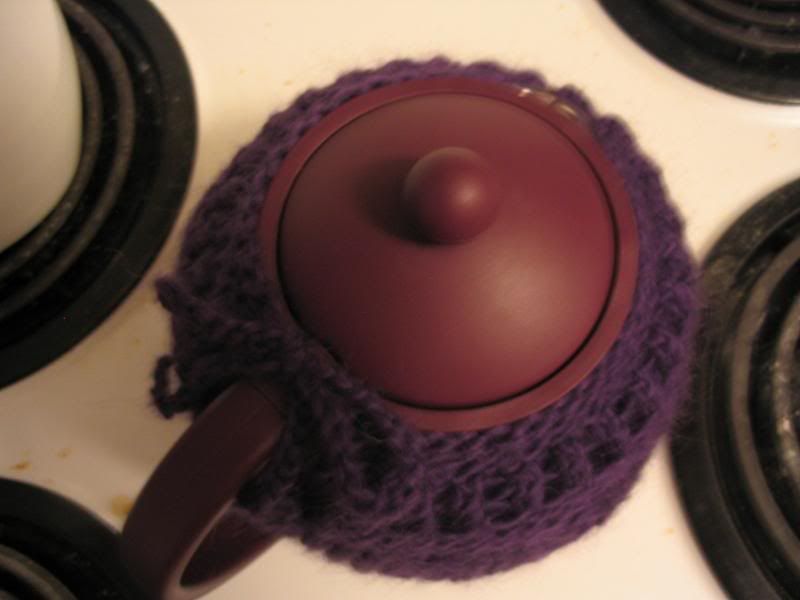 And a top view of the teapot.
That's about it for now - I'll post the pattern later this week, once I've had a chance to go over it and double check everything is written right.